---
Born in Pennsylvania in 1885, John Frink attended Washington College in Topeka, and began a teaching career in Kansas. Arriving in Seattle in 1874, he both taught and served as principal at Seattle's Belltown School.

Capitalizing on the City's growth, Mr. Frink formed a successful foundry business, Washington Iron Works. He later established the Seattle Electric company, served as a director of the Seattle Savings Bank, and served as a state senator. In 1906 Mr. Frink became a member of the Board of Park Commissioners, and later its President.
---
Olmsted Park and Boulevard Plan
Link to the Olmsted Plan
A few years earlier the Park Commissioners hired a famous landscape architectural firm, Olmsted Associates, from Brookline, Massachusetts. Gaining fame from their design of New York's Central Park, the Olmsteds were commissioned to develop a comprehensive scheme for Seattle's parks and boulevards. This foresight enabled the City to acquire park land at "reasonable" prices, enhance local real estate development, and develop a premier park system for Seattle residents.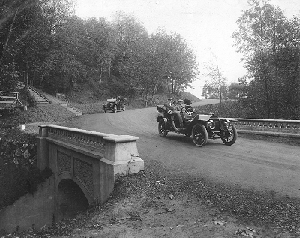 The Olmsted's 1903 report to the City Council suggested that the cost to maintain the roads and sewers along steep hillside would far outweigh the expense of outfitting the land for public use. And, the Park would afford visitors to the crowded Leschi Park the enjoyment of magnificent views. Notes taken by John C. Olmsted during 1906 and 1907 suggest that the 31st and Jackson entrance capitalizes on the commanding lake views and that a series of trails and stairways be built from the entrance to the lakefront.
In 1908 the City authorized the Board of Park Commissioners to acquire additional land adjacent to the park property for $6,000. This land is in the southeast corner of the park, south of 33rd Avenue. While other lands were given as gifts, the City condemned several lots just south of today's Frink Boulevard to make room for the parkway.
---
Continuing the Legacy
Today, the Friends of Frink Park are seeking to preserve the natural urban forest unique to the Park. These local stewards are united in ensuring the Park's continued importance to the local residents and the City that visionaries John Frink and the Olmsted Brothers foresaw.
To ensure that the Park prospers for future generations, residents are getting involved with the Park reforestation project. Learn how you can contribute to your neighborhood park.
Get Involved!
---
More links of interest
---